Welcome to Artsmill!
Artsmill at Linden Mill is a charity, a not-for-profit arts space which encourages participation in the arts through the provision of high quality activities including workshops, lectures, studio spaces, talks, poetry readings, exhibitions and music events.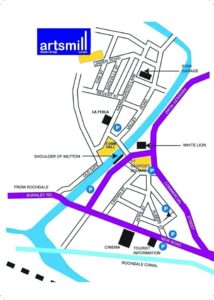 The Gallery was established in June 2003 and brings high quality work by internationally renowned and emerging artists to the region as well as exhibiting the work of local and regional artists.
Exhibitions have included work by Picasso, Paula Rego, Frank Auerbach, Bridget Riley, Goya and Quentin Blake as well as work by artists living locally, among them, Ann Raby, Grazyna Whittle, Kyoko Takahashi and David Wright.
In September 2012 Artsmill was awarded charitable status and they have hosted many fantastic exhibitions and events since then.
If you would like to become a Friend of Artsmill or join our mailing list please email us at:  [email protected]
CLICK HERE TO DONATE TO ARTSMILL – YOUR GENEROSITY IS ALWAYS APPRECIATED!